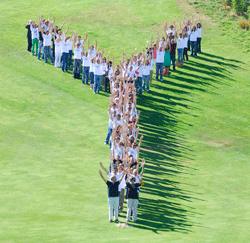 A LeYa nasceu em 2008 como grupo editorial no qual se integram algumas das mais prestigiadas editoras de língua portuguesa.
A força das marcas que integram a LeYa, os autores com que temos o privilégio de trabalhar e a qualidade do que, em conjunto, criamos fazem da LeYa uma empresa forte e coesa nos seus objetivos gerais e diversificada nos seus programas editoriais, bem como nas suas atividades na área da Educação.
Graças à integração de empresas e de profissionais profundamente enraizados nos respetivos mercados, a LeYa conta hoje com um capital humano extraordinário e detentor de um sólido e diversificado know-how nos meios Editorial, Educativo e Tecnológico.
---
About LeYa
LeYa was established in January 2008 as a holding company incorporating some of the most prestigious publishing houses in Portuguese language. LeYa publishes fiction, nonfiction and children's books, being also one of the most important textbook and study book publisher in Portuguese speaking countries.
The strength of LeYa brands and the quality they produce, combined with ambitious goals and group dynamics, make LeYa solid and cohesive in its overall goals and diverse in its publishing programs.
By integrating publishers and professionals deeply rooted in their markets, LeYa is privileged to have extraordinary human capital with solid and diversified know-how in the publishing sector.
Today, LeYa has some of the best and most renowned publishers in the Portuguese-speaking world among its staff, together with highly experienced and skilled professionals in other key areas such as the production, distribution and marketing.
LeYa in Digital Education
LeYa is one of the world's main institutions operating in Education in Portuguese speaking countries. In what concerns Digital Education, we develop our work together with the key players - students, schools, teachers and parents, as well as with K-12 educational specialists. Through our digital platforms and contents, we create effective quality learning solutions and actively contribute to use technology to achieve better teaching and better learning in the countries where we operate.